Five key events from the past century that have impacted modern graphic design.
1919 – Bauhaus
In 1919, the first Bauhaus art school opens in Weimar, Germany. The Bauhaus design style, which became famous for its unique aesthetic that combines the fine arts and crafts, aesthetics with functionality, generally focuses on simple geometric shapes and has little ornamentation. It had a major impact on later architecture, interior design, art and graphic design.
1925 – Art Deco
As an alternative to the abstract Modernism, a mass-commercial, decorative art style called Art Deco was born in the 1920s. The term originated from the international exhibition held in France in 1925 called Exposition Internationale des Arts Decoratifs et Industriels Modernes, where the primary requirement for the works was to be thoroughly modern with no copying of historical styles of the past. Art Deco was a futuristic style, associated with glamour, luxury, and extravagance. It is, among other things characterized by the use of symmetry, layered shapes, intricate line art, rectilinear geometry, aerodynamic curves and metallic colors like gold and chrome.
1950s – Pop Art
The Pop Art movement emerged in the 1950's as a reaction on the traditional fine art, challenging the views of the established art culture. Artists started to incorporate images from mass media, movies, advertising, comics and cartoons and from labels of mass produced products into their designs. They wanted to form a relationship between the new popular culture and visual arts — creating art that had mass appeal. Pop art is characterized by its use of irony and satire, with a flat, colorful and vibrant graphic style. Illustrations are often made using cut outs from magazines.
Pop art is widely considered one of the most defining and recognizeable art movements in the 20th century.
1990 – The introduction of Photoshop 1.0
What would become one of the world's the most powerful image processing tools was officially released in February 1990. Unlike most graphics software of the time — which was aimed at specialists — Photoshop was made for a mass-market, for everyone to use. The software changed the graphic design industry: Graphic work that previously required advanced, expensive equipment could now be achieved on a home computer, at a reasonable price.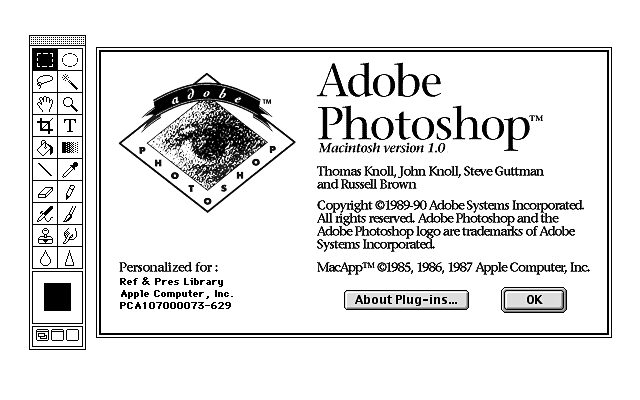 2010 – Flat style
In the last decade, there was a shift from ultra-realistic design, to an almost flat aesthetic. Influenced by earlier simplistic graphic styles such as Bauhaus and Swiss style, the Flat style is minimalistic and lacks highly realistic elements. It uses 2-dimensional visual details with simple shapes, sharp lines and bright colors. In common with its similar ancestors, the Flat style avoids the use of unnecessary ornamental elements and focuses on functionality. The aesthetic is now used everywhere, especially on websites and mobile apps.